Sax & Piano Duo
---
In 1995, two musicians Laura Mikel Vlková and Roman Fojtíček, founded the Sax & Piano Duo, performing music for both originally written and specially adapted for unique combination of instruments. The Sax & Piano Duo boasts a wide repertoire ranging from the late Baroque to the 20th century, including the latest contemporary works.
---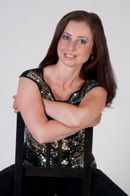 Laura Mikel Vlková
- piano -
is known for her extensive work with the Prague Children's Choir with which she completed a number of European and world tours; she works in theatre, television and film as well as pursuing her own independent concert activity. She was invited to prepare and produce Karel Svoboda's original Czech musical "Dracula", and also collaborated on his latest musical project "The Count of Monte Cristo". She also teaches at the Jaroslav Ježek Conservatory.
---
Roman Fojtíček
- saxophone-
is in frequent demand as a saxophonist or clarinettist in symphony orchestras, chamber ensembles, and for solo performances (mostly contemporary works). He is one of the founding members of the Bohemia Saxophone Quartet with which he has performed regularly in the Czech Republic and abroad. In 2003 he founded the Czech Sax Quartet.