Guitar Solo
---
Dance in the rhythm of Latin America!
---
Surprise your beloved or co-workers with an original present
---
The repertoire includes Latin Jazz, Afro-Cuban Music, Pop Hits a Jazz Standards
---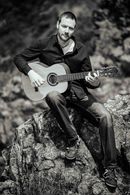 Jan Juanito Burian
- Guitar -
Juanito graduated from the Jaroslav Ježek Conservatory. He has been cooperating with many foreign artists mostly from South America and Spain. His specialization is mainly Latin American music, but he also likes to play classical music and many other genres such as pop, jazz, blues, rock, folk, evergreens. Juanito acts as a solo and backing player and singer in various bands and orchestras in the Czech Republic and abroad. He also devotes himself to composition and arranging. His favorite instruments include guitar, piano, Cuban tres, flute, accordion, charango, kena, drums and other percussion instruments.